How was coral dyeing created?

Mr. Koto Yamaoka, the former president of Ryusen was an artist of Kyoto-Yuzen dyeing and researcher of plant dyeing. When Bingata dyeing was restored after WWⅡ, he was trying to solve a problem of the colors being easily faded out because of using pigments. He used his own fund to establish a research institute of plant dyeing in 1973. That is how "Ryusen" started its history.
While trying to gain popularity of Bingata dyeing by using natural materials, we have challenged to create a dyeing technique with gentle textures peculiar to Okinawa. That is how coral dyeing was created. Coral dyeing is Ryusen's original method which had been studied for adopting various ideas derived from the blessing of nature that brings happiness and the blessing of the blue, bountiful Okinawan sea.
Ryusen suggests that dyed fabrics will be incorporated into your life centering on household goods and fancy goods with natural, simple charm.
A coral reef basked in the sun gives a shining rainbow color to the Okinawan sea. The beautiful sea variegated with blue, green, violet and other colors is considered to be a gift from nature dyed by a coral reef. Coral is said to bring us good luck and happiness from ancient days. The coral dyeing method represents the attractiveness of coral itself.
Coral dyeing is a peculiar method to Shuri Ryusen and they registered its trademark and design.
(Trademark Registration Number: 4786329, Design Registration Number: 1295667)
How to experience Coral Dyeing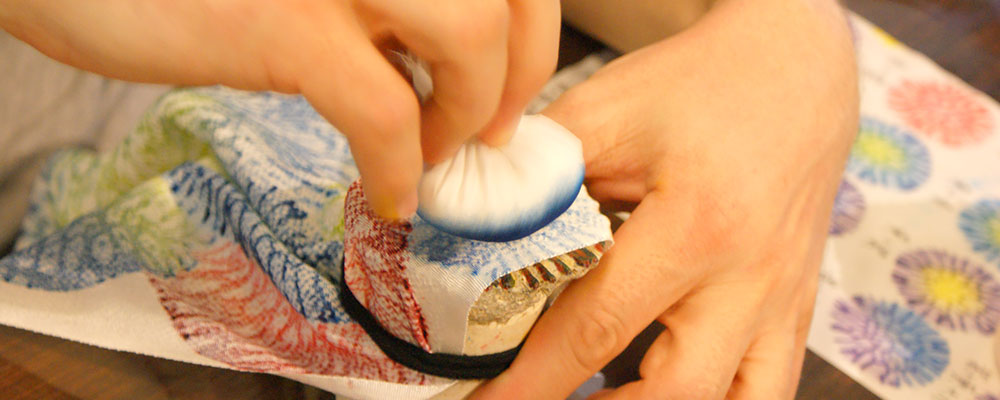 At Shuri Ryusen, we offer the one and only coral dyeing experience in Japan.
Coral dyeing is a method of dyeing fabrics using the valued coral fossils that is provided by Shuri Ryusen. You can dye a t-shirt, tote bag, or making your own design using the various coral fossils.
Coral dyeing can be enjoyed by many people, from children to the elderly.
Please come enjoy and experience the precious coral dyeing, at Shuri Ryusen.
We hope this will be a great memory of Okinawa.
Details of the Coral Dyeing Experience.
Dates:

Open all year round.

Coral Dye Exxperience hours:
9:30 / 11:00 / 12:30 / 14:00 / 15:30
Duration:
Approximately 50 minutes.
Cost:
Adult

¥3,300

(Including material fee)

 
Children (up to elementary school)

¥2,750

(Including material fee)

Your Coral Dyeing Artwork Selection:
Select one item from, furoshiki, tenugui, tote bag, or a T-shirt.
Class size:

1-40 individuals.

※ One seat per person is required.
※ If the room is full, we may not be able to accommodate a non paying guest.
※ Please keep an eye on small children.
※ Please fill in the number of your party in the remark column.

parking lot available at:
Yes → Click for access
How to make a reservation:
Payment method:

Shuri Ryusen Payment Method
We accept credit cards (VISA, MasterCard, JCB, American express, Diners Club, Discover Card) and cash. If you would like to use cash, please pay at the store on the day of your experience.

Remarks:

You can take your Coral Dye art work home on the same day.
You will receive an instruction manual for ironing (color fixing) to finish at home.

After remarks:
We would kindly like to ask you to keep in mind:



1. The instructions of "How to dye" will start promptly at your reserved time.
 Please make sure to arrive at least 15 minutes prior to your appointment.
2. If you are late, you please reschedule depending on availability.